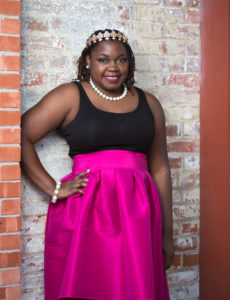 Hi, I'm Doyin. The Digital Doyenne.
First, I'll say I love playing with words. When I was in college, I used to go by Adii (having the name AdeDoyin is fun, but very few people catch on quickly), so I named my graphic design company A New Diimension. While the name was fun, I eventually stopped going by Adii and the name was an SEO nightmare, since Google always wanted to auto-suggest "A New Dimension" instead. Sometime in 2016, I came up with the name Digital Doyenne, which was perfect for two reasons: 1.) Doyin sounds a lot like Doyenne and 2) Doyenne, as described by Webster's dictionary (website) means a female version of a Doyen, which is "a person considered to be knowledgeable or uniquely skilled as a result of long experience in some field of endeavor". And that would be me, to a T. Or maybe D?
So now that I've discussed the origin of Digital Doyenne ad nauseum, what's the whole point of Digital Doyenne? I started it as a way to use my master's degree in Advertising from Southern Methodist University, years of agency experience and general passion for digital media and graphic design to help small business and bloggers to make their own digital media footprint. I also happen to be Google Adwords certified and have completed the Facebook Blueprint Training modules. From branding elements to websites and SEO to social advertising, you and I together can create a 360-degree approach to building your brand online. Need something specific like a logo or flyer design? I also provide some services a la carte as well.
Through Digital Doyenne, I have worked with clients across several verticals to build their digital presence. Past and current clients include AMSEC Security, FrameSavers™, The Wand by PureWine, DCTOP20, XYSTUS and Aleia Mims Consulting Services. In my agency experience, I have worked with many industries including non-profits, luxury brands, CPG, restaurants, retail and more.
Oh, and in my alleged spare time, I build my own brand presence as well. I blog over at She Be Knowin and run an e-commerce store at WineMeatsYonce. I also hand letter, cross stitch and do other crafty things while watching Hulu and Netflix.